What to Expect at Family Church
At Family Church we like to greet and welcome our guests. As the name suggests we are a family oriented congregation and endeavor to follow the Golden Rule.
"Do to others as you would have them do to you."
– Luke 6:31
What are our services like?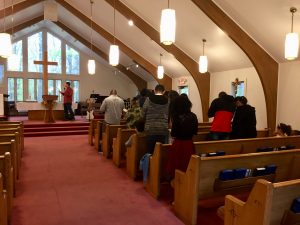 For the services we have a combination of music, prayer, preaching, and teaching, which are all destined to bring glory to God. Many of us can be very expressive in our worship, but we want you to be comfortable in our services. Some our more boisterous than others; some prefer to worship softly. God doesn't care if your the quiet one just praying in the spirit or the only person jumping in his seat. Jesus deserves all of our praise.
"Sing to the Lord, all the earth; proclaim his salvation day after day."
– 1st Chronicles 16:23
Here is what you can expect to see at our church
A friendly and joyful service where anyone can come and worship and enjoy great music, a Spirit-filled experience, and wonderful Bible based teaching.
We like to welcome our guests with a smile. And we want you to know that you are important to God and to us.
We have Sunday School for elementary school-aged children following our worship time.
Our dress is casual. You will not see many suits at Family Church, but you are welcome to dress up or come as you are.
This church is full of some amazing people who are filled with the love of God. Here you can find a place to belong at Family Church. You can be a part of our family and grow in your walk with God.
We would love to have you at Family Church. We are aiming to be a church where you can grow and where you are loved. There is a place for you in God's family.